All Monday and Tuesday night Groups will be held at John Whitgift Academy , Crosland Road , Grimsby DN37 9EH
Name of Group
Day
Time
Age
Standard if applicable
Steel Pans

Pantastic

Monday
5-6pm
7+
Beginners to intermediate
Steel Pans

Steel the Rhythm

Monday
6-7.30pm
For experienced players
Name of Group
Day
Time
Age
Standard if applicable
Mini Music Taiko and Pans
Tuesday
4-4.45pm
3-7
Mini Music

Recorders and Ukes

Tuesday
5-5.45pm
3-7
Taiko Drumming

Gyoko Juniors

Tuesday
5-6pm
7+
Taiko Drumming

Gyoko Youth

Tuesday
6-7.30pm
Experienced players
All Wednesday and Thursday night groups will be held at Cleethorpes Academy, Grainsby Av, Cleethorpes DN35 9NX
| | | | | |
| --- | --- | --- | --- | --- |
| Name of Group | Day | Time | Age | Standard if applicable |
| NEL Youth Orchestra Junior sections: | | | | |
| Fiddlestick Strings | Wednesday | 4.30-6.30pm | | Grade 1+ |
| Brass Roots | Wednesday | 4.30-6.30pm | | Grade 1+ |
| Junior Wind | Wednesday | 4.30-6.30pm | | Grade 1+ |
Name of Group
Day
Time
Age
Standard if applicable
Classical Guitar

Beginners

Wednesday
4.15-5.15pm
Complete beginner no grade necessary
Classical Guitar

Advanced

Wednesday
5.15-6.15pm
1+
Percussion ensemble
Wednesday
4.30-5.15pm
8+
NEL Pop Orchestra
Wednesday
6.30-7.30pm

Grade 1+
| | | | | |
| --- | --- | --- | --- | --- |
| Name of Group | Day | Time | Age | Standard if applicable |
| NEL Youth Orchestra Senior sections: | | | | |
| Semitone Strings | Thursday | 6.00-8.30pm | | Grade 4+ |
| Grimsby Youth Band | Thursday | 6.00-8.30pm | | Grade 4+ |
| Concert Wind | Thursday | 6.00-8.30pm | | Grade 4+ |
| | | | | |
| --- | --- | --- | --- | --- |
| Name of Group | Day | Time | Age | Standard if applicable |
| Choir Songbirds | Thursday | 4.30-5.15pm | 3-9 | |
| Broken Voices | Thursday | 5.15-5.45pm | For boys 11+ | |
| Choir #Youth Voices | Thursday | 5.45-7.00pm | 9+ | |
| Choir Elite Voices | Thursday | 7.00-8.30pm | | Invited advanced singers |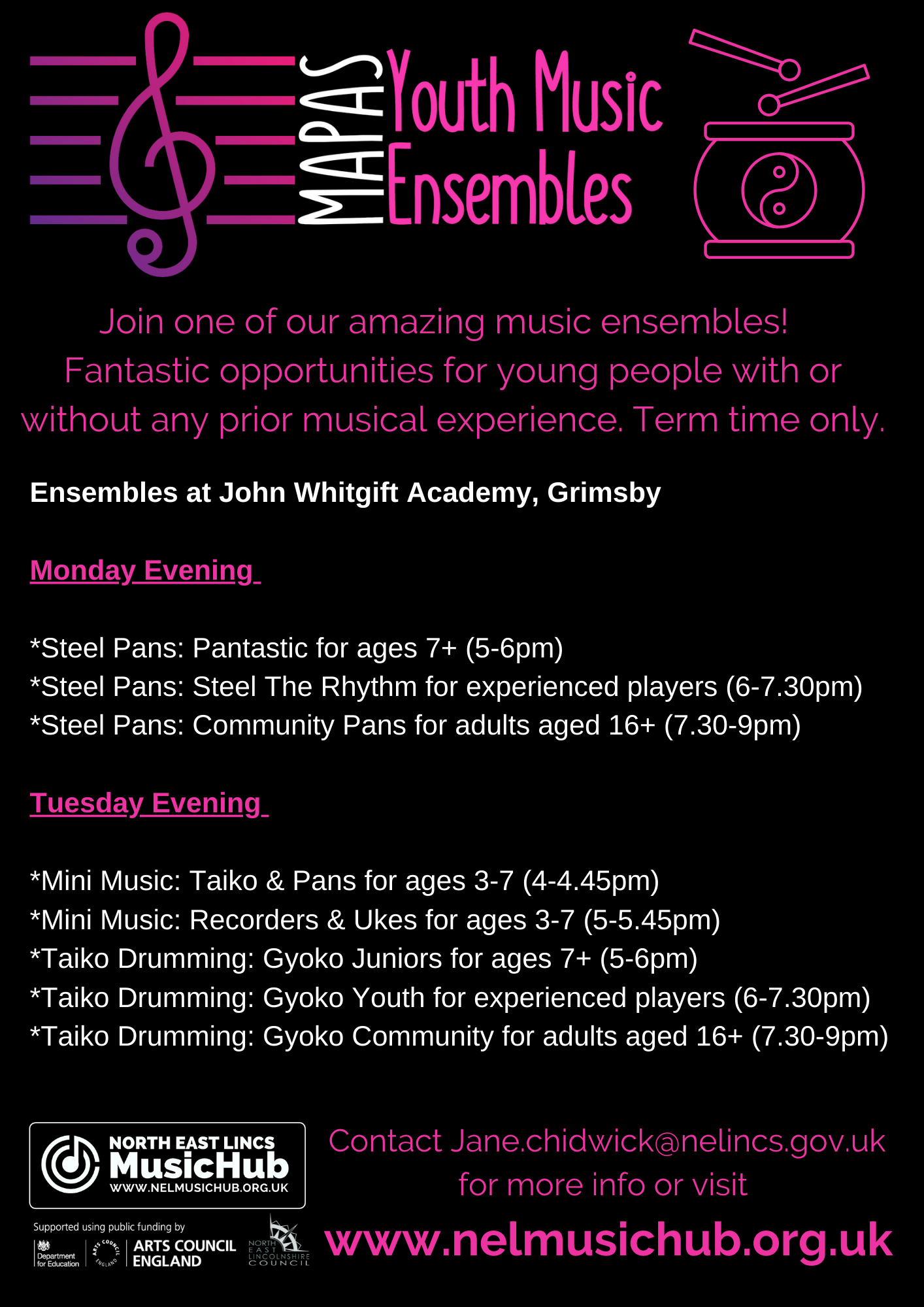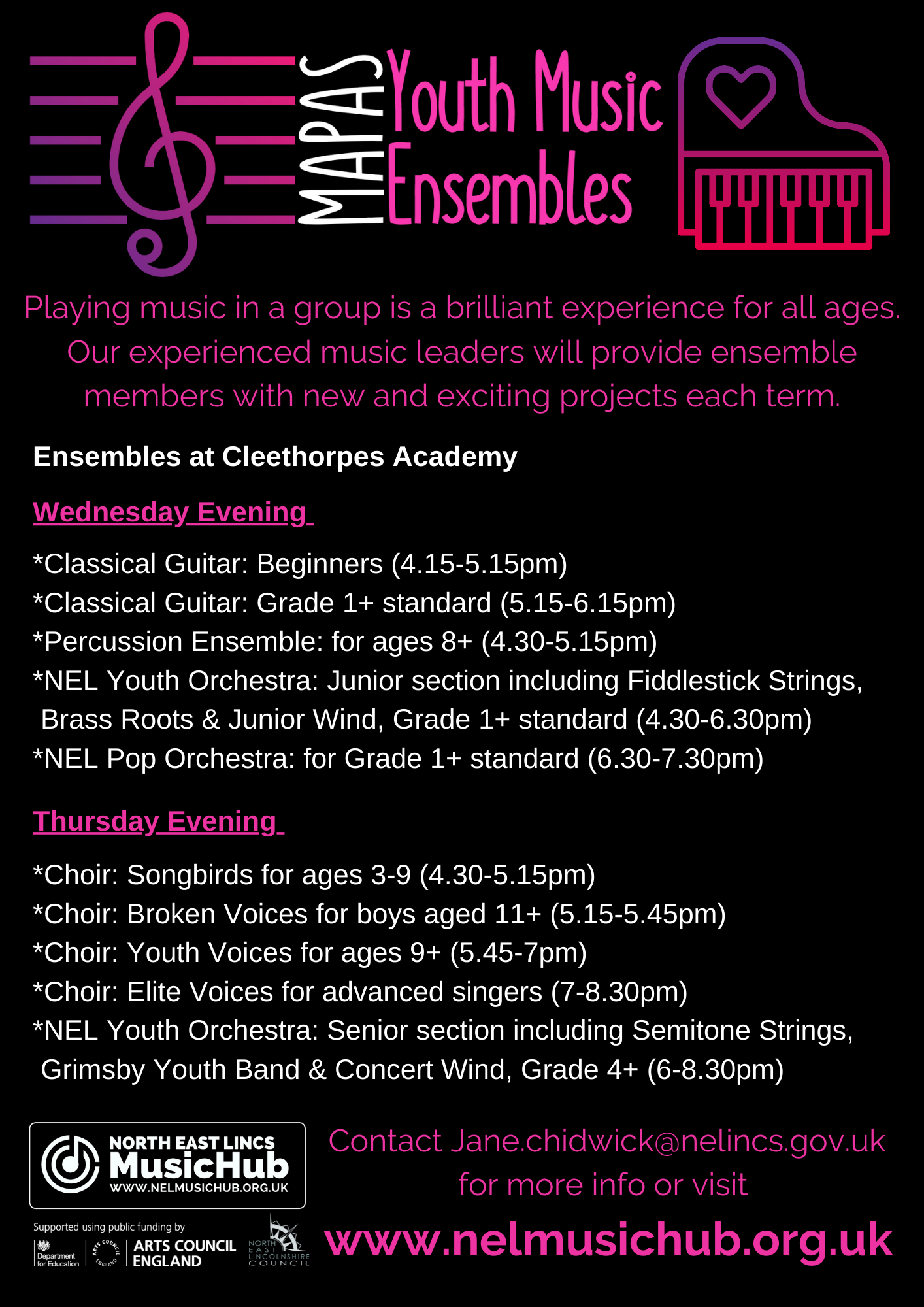 Instructions for on line payments for group membership
The fee for joining MAPAS Youth Music Groups
The fee for renewing membership for one of our groups is £30 per term and this entitles your son/daughter to join any of our other groups at no extra cost!!! Details of our other groups can be found on our website at www.nelmusichub.org.uk
Discounts
If you are entitled to pupil premium subsidy the fee per term is £15.00.
Families with three or more children attending groups – the first two children are £30 and any third or subsequent children are £15.00 each.
How do I pay for membership on line?
Go to the following link: https://www.nelincs.gov.uk/pay-it/ (right click to open the hyperlink) Music and Performing Arts Tab.
Choose the option to renew your membership by selecting  the renew link.
You will be guided through a series of questions to apply to renew your membership. On the second page don't forget to add your record on the right hand side of the page
Any other queries
If you have any problems or queries regarding online payment, please contact us via email jane.chidwick@nelincs.gov.uk